This past Sunday, May 22, I ran in the Cleveland Marathon. And it went very well! When I ran in the 2019 Cleveland Marathon, I struggled due to poor pacing and heat, but this time neither of these were an issue.
I tried to learn some lessons from my last marathon. For one, I wanted to be more aware of my pace, so that I would not burn myself out too early in the race. Another thing I wanted to do was make the race feel more like a training run. I felt good on my training runs, so if I could recreate those conditions in the race, I'd feel good there too.
Pre-race
One thing I did to make the race more like a training run was to bring my own food to eat in the morning, rather than trying to eat the hotel's breakfast. I ate a piece of cinnamon raisin toast and a Clif bar1, which are things that I would eat before a training run.
I brought my running water bottle to Cleveland with me, and I decided to race with it. I put a few energy gel things in the little pocket of my water bottle. I used these during my long runs in training, and while I'm not sure they actually do anything, I figured it would be nice to have a few extra calories while racing.
I woke up at 5:45am for the 7:00am start, and got to the start around 6:30am. The earliest I woke up during training was at 7:00am for a 7:50am run.
The weather on race day was terrific. It was overcast the entire time (no direct sun, yay!), and started out around 68ºF before dropping to 55ºF halfway through the race. This would be a big factor in how well my race would go.
My goals
My goal was to finish in under four hours (which is about 9:00/mile pace), and I expected to finish no sooner than three and a half hours (which is about 8:00/mile pace).
The race
At the start of the race, it seemed to me that every runner around me was going too fast. It felt like everyone was caught up in the enthusiasm of a race and not thinking about the distance ahead. In my last marathon, I started out too fast and ended up burning out halfway through the race. I didn't want to make this mistake twice. Based on my expected finish time, I wanted to run no faster than 8 minutes per mile. Throughout my first 6–8 miles, I monitored my pace on my GPS watch and tried my best to slow down to 8 minutes per mile, though I mostly ended up running faster than this.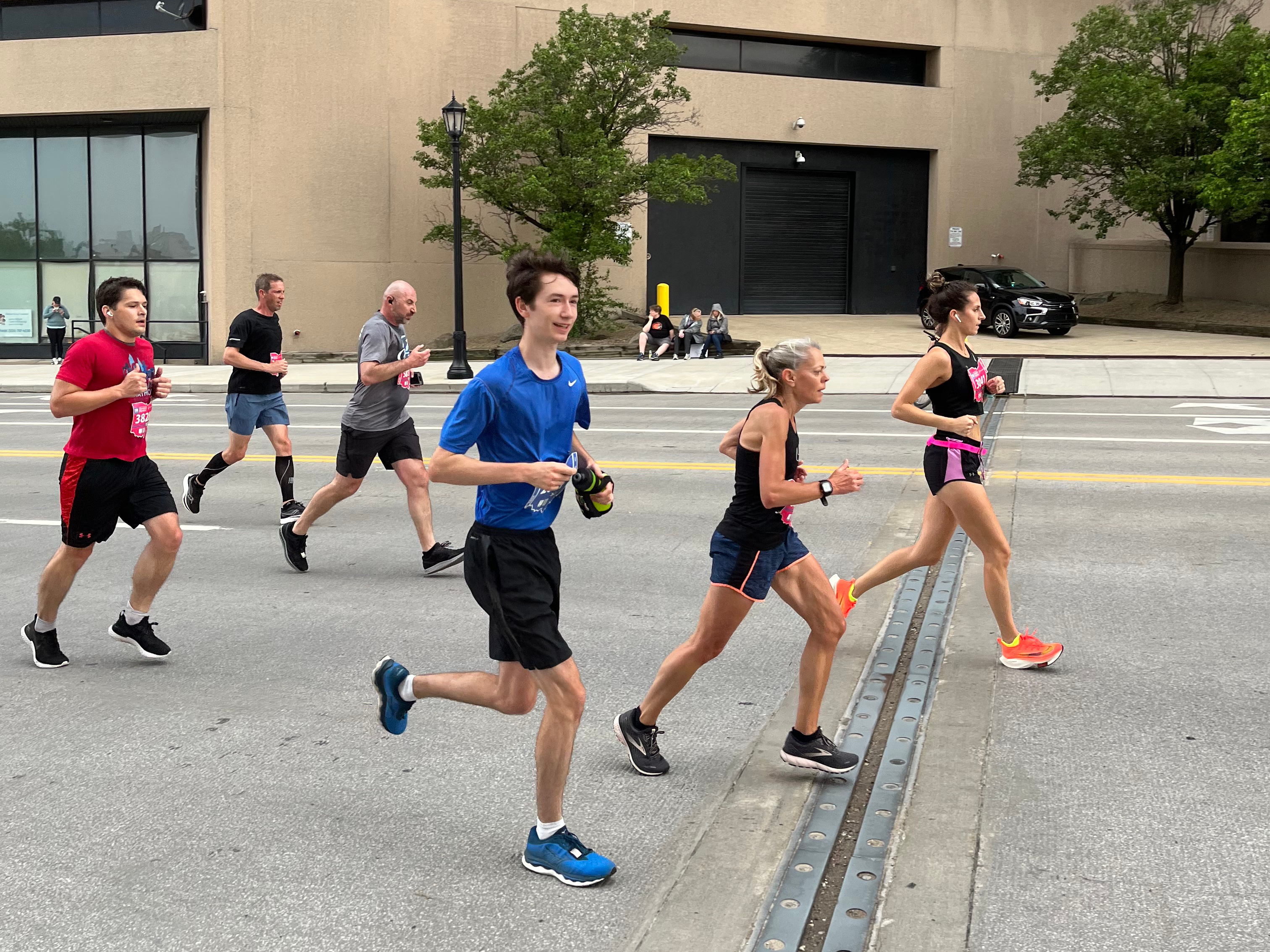 At some point around mile 8 or 10, I caught up to the 3:30 pace group. Since this was the fastest I expected to run, I figured I shouldn't pass the pace group. I stayed with them for a while. Around mile 13, the pacer said that something felt wrong with his Achilles tendon, and then he promptly dropped out of the race. I realize that pacers are human too, but that moment felt a little bit like a pilot deciding midair that they were done flying the plane.
I left the pace group and ran ahead. Though the first half of the course is a winding tour of various parts of Cleveland, the second half is essentially one long out-and-back on like two different streets. This section had the potential to be mentally tough because of the monotony. My just-sub-8:00 pace still felt fine, so I stuck with it.
At the turnaround (which is right around mile marker 18), I was still feeling good. I'd been conserving energy the entire race, and now it was late enough in the race that I felt safe using it. Over the next four miles, I passed the runners ahead of me one-by-one. This felt great, because it meant that I had been running a smart race, saving my energy. Once I reached mile marker 22, I stopped passing people, but also for the most part I did not get passed.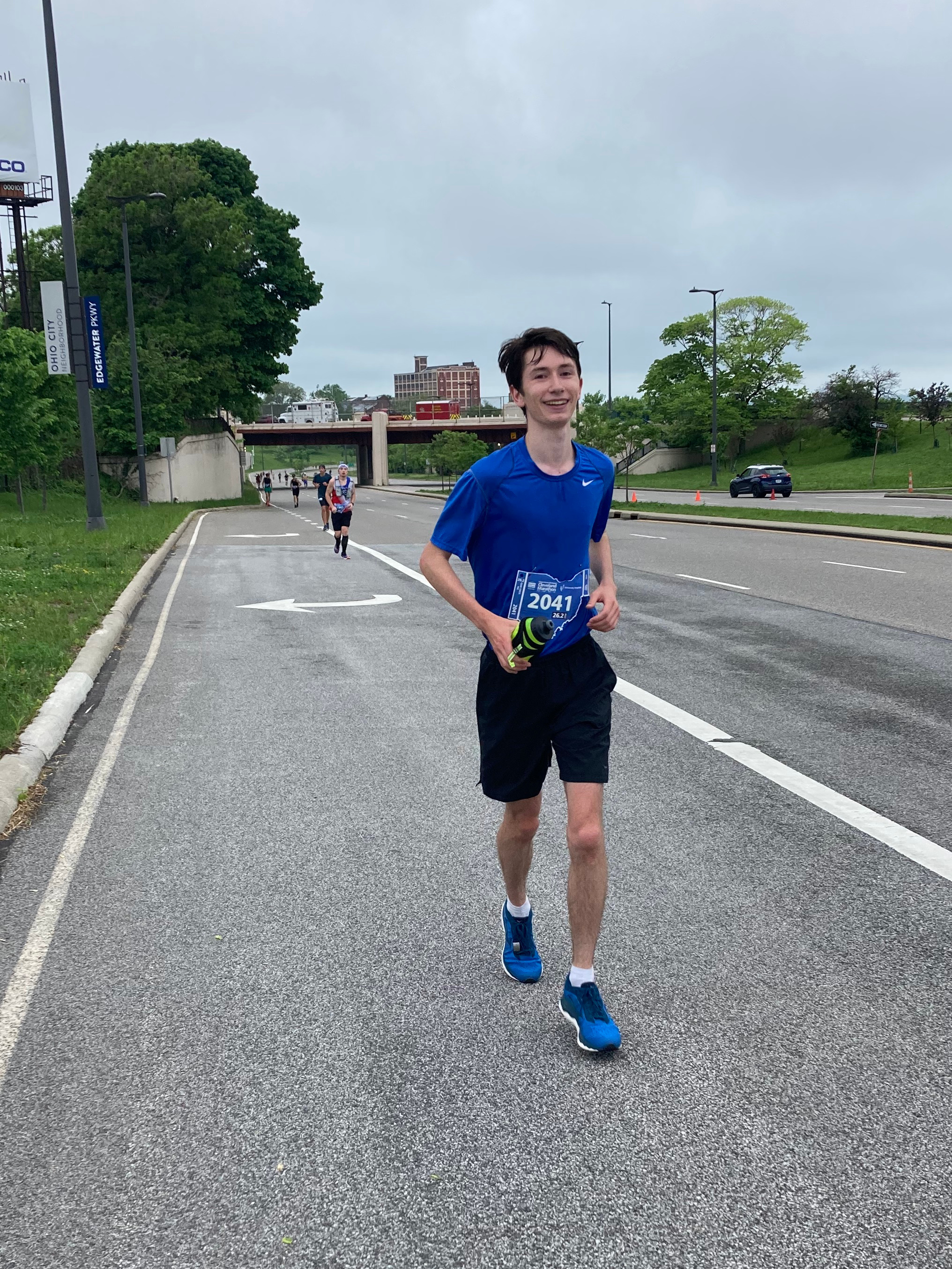 I maintained a good pace until the last two miles, where I slowed down a little bit. My race had been good enough up to that point that I could afford to slow down a little without it affecting my overall time too much. When there were about 50 meters left to the finish line, I sprinted the last little bit just for the hell of it.
Results
My official time was 3:24:56. I am very proud of this time. It's better than I possibly expected to run. With this time, my average pace was 7:50/mile.
I ran the first half of my race in 1:42:42 and the second half in 1:42:14, which means that the second half was ever so slightly faster (negative splits!). I think this is another sign that I ran a smart race.
Here's a link to my GPS recording of the race.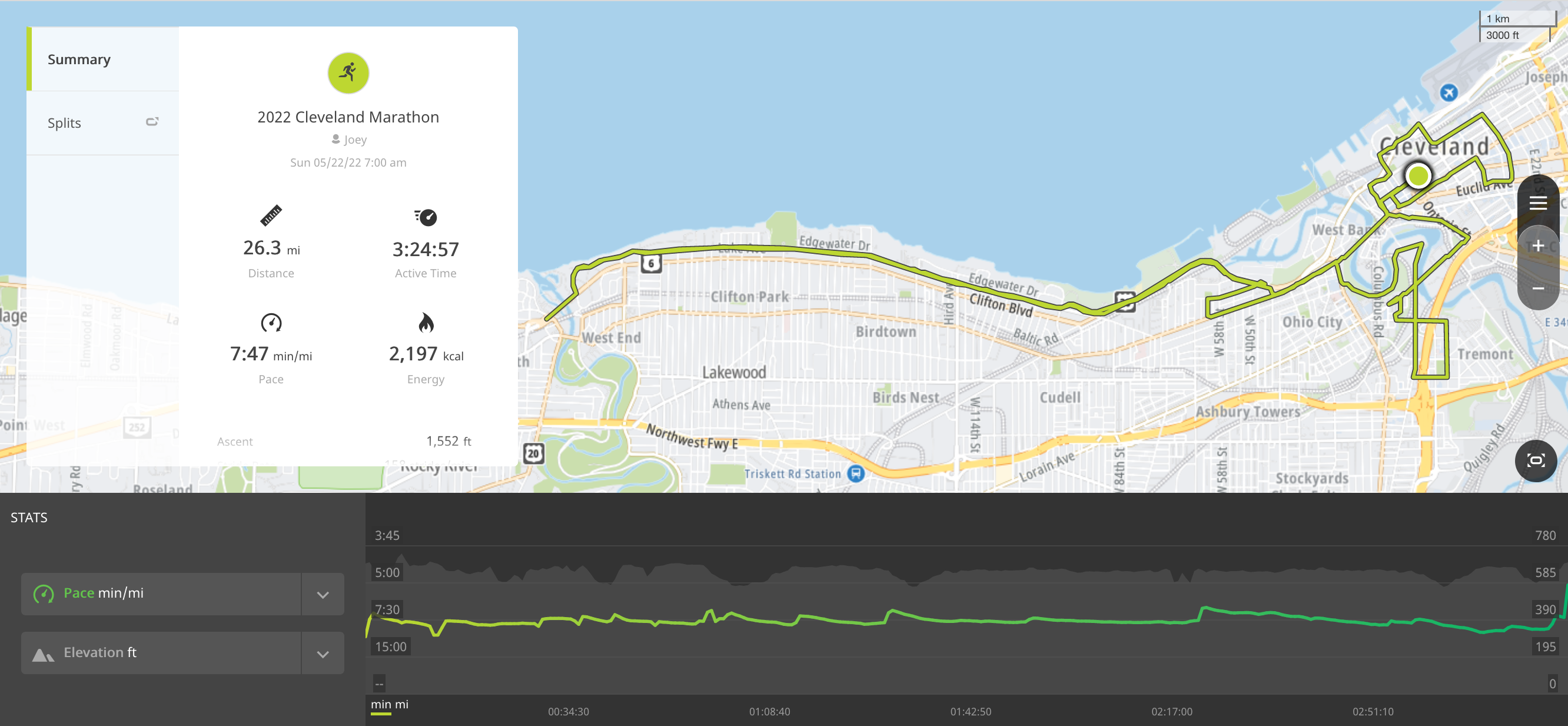 And what about the water bottle I carried? I ate two of the energy gel things (one about an hour into the race and the other about two hours in), and I drank essentially none of the water. I drank water from a paper cup at every one of the water stations along the course, so the water bottle was just there as backup. There were a couple of moments where I did drink a little bit from the water bottle just to encourage myself to keep going. Mostly, I think it was encouraging to know that I could have water whenever I wanted it, even if I barely took advantage of it.
I'm proud of my time, and I'm proud of the fact that I ran a smart race. And I'm very happy that the weather was good this time around.
I would definitely run another marathon in the future. I still have room for improvement.
---
My favorite Clif bar is oatmeal raisin walnut, but the objectively best flavor is peanut butter banana with dark chocolate. ↩︎